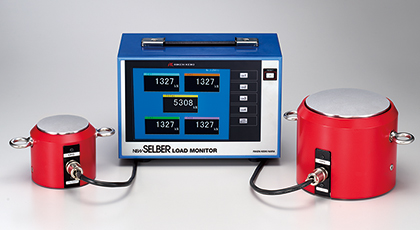 If you use CAD data, we will accept it by email.
Characteristics
● Ideal for measuring load capacity. Up to 1000t can be measured for capacity.
・4 load cells RS-711H (100t) can measure up to 400t.
・4 load cells RS-712H (250t) can measure up to 1000t.
*

The main unit display of the load monitor is kN (kilo newton).

5 patterns of load cell settings can be registered.
Accessories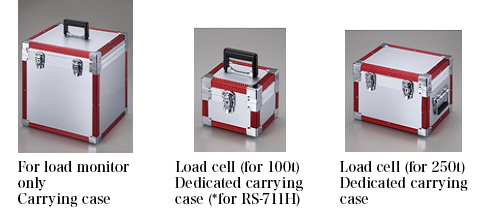 Specifications
Name
NEW SELBER Load monitor
Model
RM-7414
Compatible load cell
RS-711H/RS-711H2/RS-712H
Number of load cell channels
4ch
Operating Temperature Limit
0~50°C (operating range), 10~40°C (guaranteed range), (no condensation)
Ambient atmosphere when used
Free from corrosive gas and dust
Power supply
AC100〜240V 50/60Hz
External Dimensions
260 (W) x 170 (H) x 136 (D) mm (excluding terminal block and other protrusions)
Display
Color TFT LCD (7.5-inch) Number of dots Horizontal 640 x Vertical 480
Backlight life 50,000 hours (Typ.)
Built-in battery
Lithium battery CR2032 1 life (reference) 5 years (25°C)
Name
NEW SELBER load cell (100t・250t)
Model
RS-711H
RS-711H2(※)
RS-712H
Rated load
200~1000kN
200~1000kN(per piece)
500~2500kN
External Dimensions (D×H(mm))
(Excluding protrusions)
φ102×88
φ102×88(per piece)
φ157×130
Weight
Approx. 3.6kg
Approx. 7.2kg (2 pieces total)
Approx. 13.9kg
Operating Temperature Limit
10~40℃(No Condensation)
10~40℃(No Condensation)
10~40℃(No Condensation)
* The RS-711H2 main unit is a set of two RS-711H main units.
Name
Dedicated carrying case for load cell
Model
RS-711H
RS-711H2(※)
RS-712H
External Dimensions (W×H×D (mm))
(Excluding protrusions)
197×155×167
317×155×197
317×222×237
Weight
Approx. 1.9kg
Approx. 3.2kg
Approx. 4.0kg
| | |
| --- | --- |
| Name | Dedicated relay cable for load cell |
| Model | RS-715C(5m) |
*The specifications and the contents described in this instruction manual are subject to change without prior notice.
Inquiry