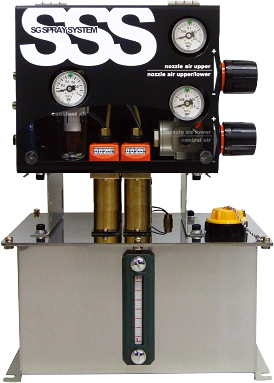 If you use CAD data, we will accept it by email.
Characteristics
●Sharp reduction in oil consumption
●Improvement of process precision
●Improvement and stability of bottom dead center precision
●Reduction of wash cost
●Mold cycle improvement
●Prevents oil stains around the machine
The SSS oil coating device spray-coats the processing oil in a fine mist form, which enables efficient coating with a very small amount of processing oil and leads to significant oil reduction.
This is effective in preventing slug and improving product accuracy.
Since the control and power source is mechanical drive control using only air, there are almost no problems to be used in adverse environments.It can be installed in a small space by miniaturizing the nozzle. Since the oil amount of SSS is digital, the numerical control can be done easily.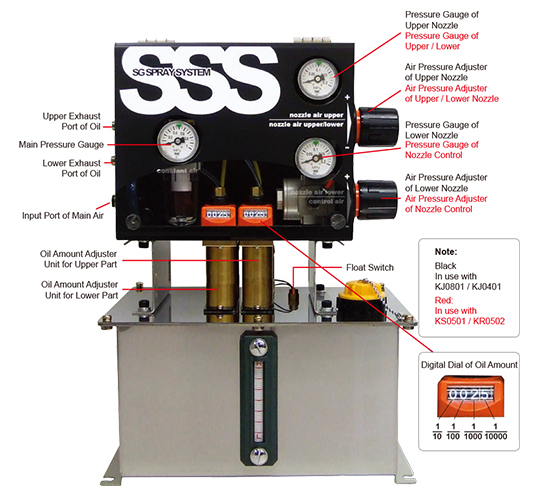 Specifications
| | |
| --- | --- |
| Name | SG SPRAY SYSTEM |
| Model | SG-K4 |
| Drive source | Compressed air |
| Operating air pressure range | 0.4・0.5Mpa |
| Spray quantity setting range | 0.025~0.15cc×1~136shot |
| Spray quantity | 0.0025~2.04cc |
| Working viscosity range | 2~100cSt |
| Circuit | 2 circuits |
| Tank capacity | Sheet metal 4ℓ/8ℓ (standard is 4ℓ) |
*The specifications and the contents described in this instruction manual are subject to change without prior notice.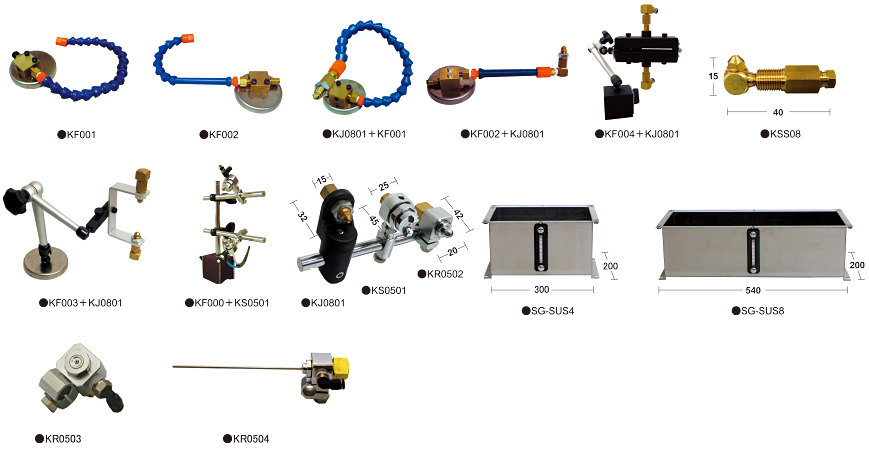 Inquiry