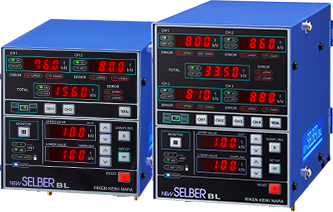 *Includes an external view of the Load sensor (RS-702H) used in RM-2112/2114.
If you use CAD data, we will accept it by email.
Characteristics
●Ideal for die height adjustment
●Analog output function installed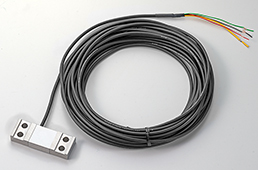 *Load sensor: RS-702H
Specifications
Name
NEW SELBER BL
Model
RM-2112(2ch) / RM-2114(4ch)
Compatible sensor
RS-702H (sold separately)
Monitoring method
Reference value comparison
Monitoring range
±9999kN 1kN step (±999t 1t step) to the reference value
Input
2 points, non-voltage NPN open collector output (Drive current 5mA or more) or contact input
Timing input Non-voltage NPN or PNP open collector output or contact input
Output
Relay contact (C contact) NC-C-NO AC250V 2A Max. (Resistive load)
Power supply for timing signal DC12V 250mA Max.
Maximum number of rotations that can be monitored
3000spm
Operating Temperature Limit
0-50℃ (No Condensation)
Ambient atmosphere when used
Free from corrosive gas and dust
Power supply
AC100V-240V 50/60Hz
Weight
2ch: Approx. 1.5kg/4ch: Approx. 1.6Kg Mounting angle: Approx. 0.8kg
External Dimensions
120(W)×125(H)×200(D)mm(RM-2112)
120(W)×154(H)×200(D)mm(RM-2114)
(Excluding terminal block and other protrusions)
*The specifications and the contents described in this instruction manual are subject to change without prior notice.
Inquiry